On Sale
Butterfly Open Metal Razors for Men or Women with 5 Blades (Rose Gold)
❤【BEST GIFTS FOR LOVERS AND COUPLES】Zomchi black and rose gold butterfly open double edge safety razors would be the best combination gift for lovers and couples. You can consider them as a souvenir and keep a great memory in these safety razors. When you do grooming every morning, your beloved one will come to your mind and make you fresh and full of energy, which is of great importance to your new day job.
❤【STYLISH DOUBLE EDGE SAFET RAZOR】Zomchi double edge razor offers the Maximum shaving experience by lifting and removing the hair follicles making it possible for the users to get the best experience with the closest and cleanest shave possible. With its unique texture grip, this metal shaving razor offers a solid comfortable grip, enabling you to shave with excellent control and perfect precision.
❤【5 DOUBLE SHAVING EDGE BLADES& WHITE BRUSH FOR CLEANING】Zomchi take customers' shopping experience into consideration, so 5 standard blades and a white brush are included in the package and you don't need to waste time to buy extra blades. And cleaning is also like a breeze with a lovely brush. Besides, these razor blades will not easily rust these days as they are made of stainless steel with rust-resistant coatings.(One blade for four to six shaves)
❤【BUTTERFLY OPEN MECHANISM FOR REPLACING BLADES 】The women's safety razor is nicely balanced and features a simple mechanical design. Loading and unloading the razor is also easy. You just need to unscrew the razor bottom part until the razor head opens, replace the previous old blade with a new one and then screw the razor bottom part tightly.
❤【MINIMIZE SINGLE-USE PFLASTIC】Not like plastic and disposable razors which are impossible to recycle and harmful to our mother earth. Zomchi safety razor is made to fight against the gigantic amounts of disposable razors which are sent to landfill every year. All you need to do is to replace the blades which can be recycled. This could save you a lot of money over those multi-blade plastic razors.
100% SATISFACTION GUARANTEE:  From shipping to returns, ZOMCHI assures customers to replace any defective product immediately. Check Zomchi Warranty Policy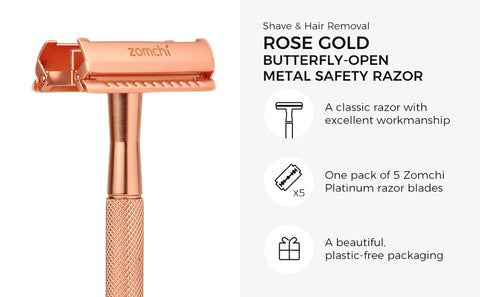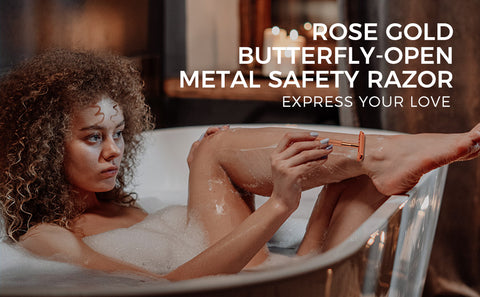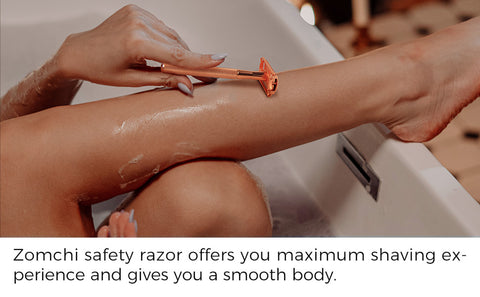 It works well
I nicked myself the first month getting used to it, but once I got used to it (use little to no pressure), I now no longer nick myself while shaving with this razor. It's kind of heavy, but other than that I really like it.
It worked fine for 4 months but I went to change blades today and it won't close properly. I realized that dried soap scum/calcium deposits needed to be brushed away to allow proper functioning. Now it's working perfectly again.
Amazing !
this is SO much easier to use instead of the disposable ones. You can just hold it at an angle and just drag it along the skin and it feels like it does the work for you! I got a super close shave even using it in my bikini area while it is also easy to rinse off any remaining hair or residue on the blade! Definitely is helping me save money in the long run
Amazing
I like this product a lot although I am not sure how often the blades are supposed to be changed BUT it works perfectly
Perfect in every aspect
It's perfect. The weight is perfect and it's durability is really nice. I knew it would be worth it but it really did pay off. Just be careful first few times using it it takes a little practice! Better for our environment overall and no more ingrown hairs :)
Great for sensitive areas
Best razor purchase I've ever made! I use it on my bikini area and I haven't gotten any razor burn after 4 shaves so far! Leaves you super smooth too