ZOMCHI
Zomchi Back Scrubber (Blue)
Choose reusable products and reduce waste to protect the earth. Let's start with reusable products and work together for a better future.
Note: This product is only available in the United States and Canada. Only buyers in the US and Canada can choose the shipping method on the checkout page. (There are six products in our store that are only available in the United States and Canada, for more details, please click here)
Here you will find information about the New body scrubber that we have launched.
👉Zomchi Body Exfoliating Back Scrubber for Use in Shower(RED)👈
👉Zomchi Body Exfoliating Back Scrubber for Use in Shower(Green)👈
Self-Beauty Massage: With this back scrubber, you can exfoliate your body and make a beauty massage by yourself. We upgraded the textured moderate level rough surface, not only for an extraordinary washing experience but also for reaching a goal of skin cleanse. Get Zomchi Back cleaner and give yourself a great skin massage.
Body Treatment: Zomchi back washer would be your great body treatment tool to wash off the mixture of dirt and dead skin on the surface of the skin and also promote blood circulation as well. Your Wise Choice for a Cleaner and Healthier body care partner.
Wide Coverage & Durable Handle: Extended length and width of Zomchi back scrubber enable you to fully cover your back and clean the area where is hard to reach. With its flexible handles on both ends, you can easily wash and exfoliate shoulders, neck, legs. Besides, we strengthen handle durability and make sure that the body exfoliator will not break during bathing time.
Easy To Use: We advise to soaking for 1-2 minutes in warm water before the first use, apply the appropriate amount of shower gel to wipe the body parts, the foam will be more abundant when bathing. Hang up to keep it dry, can be a perfect bathing accessory for home or traveling.
100% Guarantee and After-Sale Service: Zomchi's goal is to give everybody a smoother, silkier skin. If you have any questions with the length or material of our scrubber, please feel free to contact us, and we would give you a response without hesitation.
100% SATISFACTION GUARANTEE:  From shipping to returns, ZOMCHI assures customers to replace any defective product immediately. Check Zomchi Warranty Policy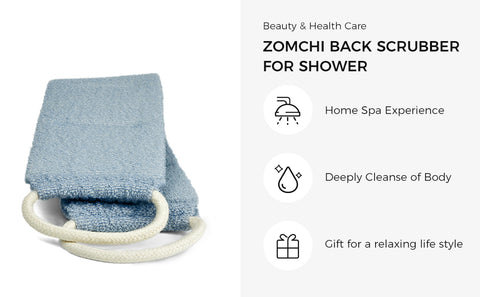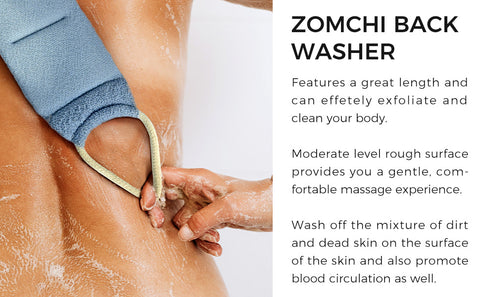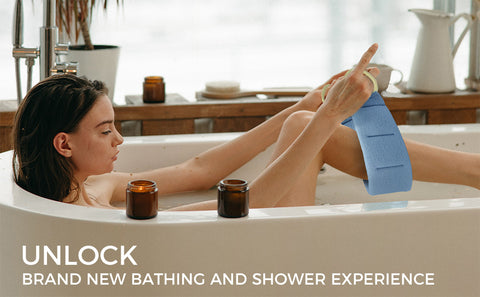 Zomchi Back Scrubber (Blue)
Nice softness
But pads inside get separated when you stretch it
Love it!
Just the right amount of "scratchiness." Dries well.
Scratchiness is ideal! Helps slowly clear up bacne.
Nice and scratchy, but won't leave your skin raw or sore even if you overdo it cause, well, it feels good! ☺️🤭
It leaves you soft and refreshed and after the first use you will likely Notice a difference. Been using this for about two or three weeks now and it's my go to.
I recommend these for so many people with so many different skin issues. Its also good for back acne. Just be sure you don't have any open ones and a good scrub will exfoliate your skin and it'll feel smoother and cleaner, and clearer.
If you keep at it every single day for a couple weeks with the nuetrogina brand body scrub, You'll notice a big difference. Just be sure to wash the cloth really well after each use. I wash my body with hot soapy water and this cloth. Then I rinse it using the rinsed off cloth in cool water where its almost uncomfortable, to close my pores. It makes a huge difference and the cloth plays a really big role in that. I haven't had back acne since I was a teenager but I all of a sudden got it again about a year ago during last summer.
I can't promise that this cloth will work miracles for you, but it definitely made a difference in my back acne as a woman in her thirty's. I was able to wear a bareback bathing suit just this past weekend. Scars and dark spots are still there, yes, but there weren't any pissed off red dots that I could see.
Overall. This cloth is great and even if you don't have back acne (lucky you) lol, you get a good invigorating exfoliating shower with the help of this bad boy.
Keep it away from your privates tho. Not speaking from personal experience, but ummm, this is a tad too hard for down there. I wouldn't even consider it. 😵‍💫
Its excellent for elbows, knees, neck and of course especially the back.
You'll like this wash cloth, that I can promise. (But I offer no guarantee lol)
Feels great!
Amazing! Loved this one. Feels great for back rubbing. Recommended.
Back Scrubber for shower
This is a pretty scratchy tough scrubber. It's not so bad when you get it wet but if you really want to exfoliate your skin, this will do the trick. It's made very well - very durable. If you take care of this scrubber, it should last a very long time. It's easy to use and it's a good length to reach your entire back. I think you'll be very happy with this scrubber.