ZOMCHI
100 Counts Safety Razor blades
Choose reusable products and reduce waste to protect the earth. Let's start with reusable products and work together for a better future.
【SHARP AND PRECISE SHAVING BLADES】These safety razor blades are manufactured with precision and then coated in Platinum to get the smoothest shave. Zomchi double edge razor blades fit most standard double razors, so come get them to enhance your elegant and handsome temperament.(Blades are extremely sharp and must be handled with care)
【SUPIRIOR PLATNUM FOR DURABLITY】With Exquisite workmanship, Zomchi double edge razor blades will not easily rust as they are made of stainless steel with rust-resistant coatings. Besides, its smooth surface makes it easy to wash hair away after shaving.
【WELL PACKAGED SAFETY RAZOR BLADES】Each of the double edge razor blades is individually wrapped in wax-paper for safer handling. Besides, 5 pieces in a small inner packing enable you to keep and carry easily during traveling or business trip.
【SUITABLE FOR ANY SKIN AND BEARD TYPE】Whether you're looking for men's shaving blade refill or platinum safety razor blades, these premium blades will get your work done. A shaving cream is a good helper when using Zomchi razor blades, which can hydrate the skin and protect it from any irritation, leaving a soothing sensation.
【5 CARTONS OF 20 DOUBLE SAFETY RAZOR BLADES】As one shaving blade can be used four to six shaves, so 100 count double shaving edge blades can be used up to 600 shaves. We are so confident that you are going to love these safety razor blades and if you are not completely satisfied with it, simply contact us and we'll take care of it.
100% SATISFACTION GUARANTEE:From shipping to returns,ZOMCHI assures customers to replace any defective product immediately.
Check Zomchi Warranty Policy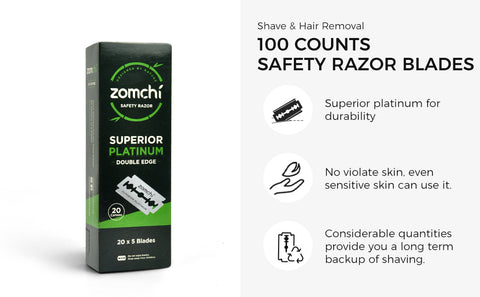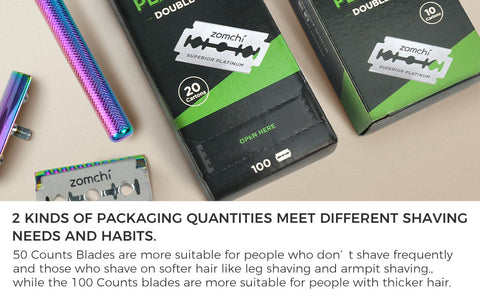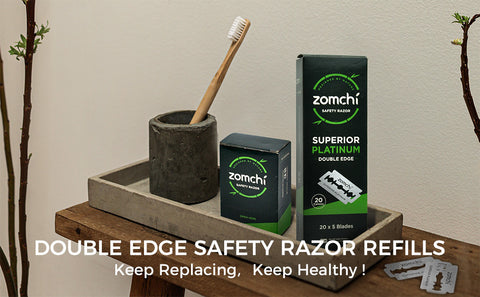 100 Counts Safety Razor blades
100 Counts Safety Razor blades
Saves money in long run. Smooth shave with no razor bumps or irritation. I actually get cut with it less than regular razors
Double Edge Razor Blades, 100 Counts Safety Razor blades for Shaving, Platinum Stainless Steel Shaving Blades for Men and Women
Buy now, Shave Later.
The value and quality of these blades are incredible. I feel like I'm set on razorblades for life, however I know that's probably an exaggeration. I love Zomchi's safety razor, which was my first ever safety razor, and totally changed my shaving habits. I love that I no longer have to deal with razor bumps or wasteful disposable razors. Now with this 100 count of blades, I won't be needing to worry about refilling blades for at least a few years since I change my blade maybe only 1-3 times a month. I didn't notice at first that the box had a little tear slot to make it easy to remove each blade pack, but when I did notice it and tore it off, it didn't really seem any more convenient than it would be to just open it from the top. Overall this is an excellent purchase for anyone who likes to stock up on essential supplies.