On Sale
Double Edge Metal Razor for Women with 5 Blades in Delicate Box (Rose Gold)
❤【BEST GIFTS FOR LOVERS AND COUPLES】Zomchi black and rose gold double edge safety razors would be the best combination gift for lovers and couples. You can consider them as a souvenir and keep a great memory in double edge razor. When you do grooming every morning, your beloved one will come to your mind and make you fresh and full of energy, which is of great importance to your new day job.
❤【STYLISH DOUBLE EDGE SAFET RAZOR】Zomchi double edge razor offers the Maximum shaving experience by lifting and removing the hair follicles making it possible for the users to get the best experience with the closest and cleanest shave possible. With its unique texture grip, this double edge razor offers a solid comfortable grip, enabling you to shave with excellent control and perfect precision.
❤【5 DOUBLE EDGED RAZOR BLADES FOR SHAVING】Zomchi takes customers' shopping experience into consideration, so 5 standard double edged razor blades are included in the package and you don't need to waste time buying extra double edged razor blades. Besides, these double edged razor blades will not easily rust these days as they are made of stainless steel with rust-resistant coatings. (One blade for four to six shaves)
❤【EASY TO REPLACE BLADES】The razor is nicely balanced and features a simple mechanical design. Loading and unloading the razor is also easy. You just need to unscrew the head from the grip, take the top part off and put a razor in the bottom part and then screw tightly the head into the grip.
❤【MINIMIZE SINGLE-USE PFLASTIC】Not like plastic and disposable razors which are impossible to recycle and harmful to our mother earth. Zomchi safety razor is made to fight against the gigantic amounts of disposable razors which are sent to landfill every year. All you need to do is to replace the blades which can be recycled. This could save you a lot of money over those multi-blade plastic razors.
100% SATISFACTION GUARANTEE:  From shipping to returns, ZOMCHI assures customers to replace any defective product immediately. Check Zomchi Warranty Policy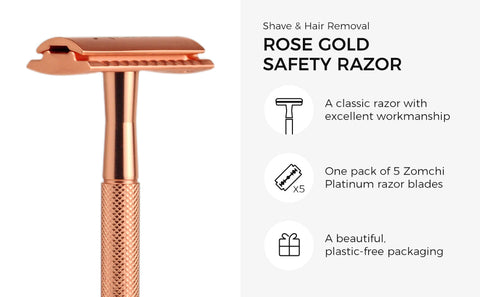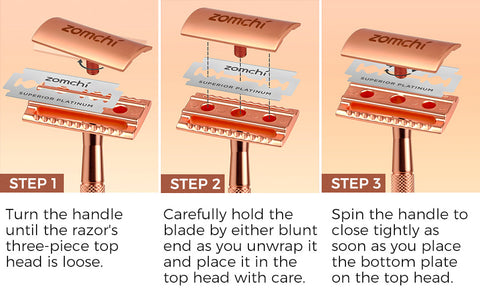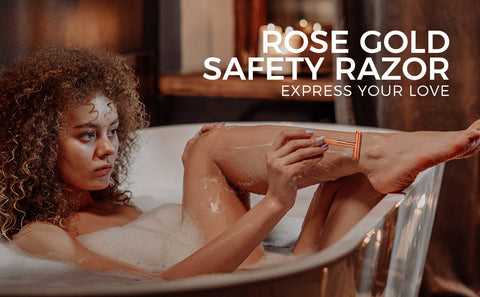 Great gift
I love the idea of not having to buy a razer all the time and my mom grew up on these types of razers so I know she will love this. This beautiful color and comes with extra blades and perfect size if you are traveling. Great purchase will be buying one for myself
Best shaver ever
I threw away all my old razors this one is the best and you don't have to use so much pressure or you will cut yourself tbh I get a closer shave and no ingrown hairs now!
Best razor ever!!!!
Best razor ever!!!! It treats your skin so gently, cut perfect and it is easy to set it up. It comes with 5 blades, the razor, and instructions. It is just magnificent!
Nice weight to the handle
Forgot my safety razor when traveling so needed a replacement. This one feels high quality. The weight in the handle is nice. Feels sturdy. The color is nice, too. Another great feature is the handle is longer and feels more maneuverable to me.
Una cuchilla que jamás hubiera pensado tener y que me quedaré por muuucho tiempo
Es tan bonita y mucho más elegante que las desechables.
Como la mayoría de las personas que nunca han usado una maquinilla de afeitar como esta, al principio me sentí intimidado.
Sin embargo, vi un montón de videos antes de que llegara
Montar la maquinilla de afeitar por primera vez da un poco de miedo, pero una vez que lo dominas, es fácil.
Afeitarse requiere paciencia, ya que no se puede simplemente subir y bajar las piernas rápidamente como con las navajas de afeitar de plástico.
Sin embargo, vale la pena porque el afeitado es muy suave y satisfactorio.
No pensé que fuera posible conseguir un afeitado más limpio considerando que las maquinillas de afeitar desechables pueden tener 5 hojas a la vez y esta maquinilla de afeitar solo se afeita con 1 hoja, pero de alguna manera funciona mejor que las maquinillas de afeitar sobrecargadas de hojas. El componente "eco" también es una ventaja, ya que esta maquinilla de afeitar probablemente se pueda utilizar de por vida.